Navigation

Users Online

Guests Online: 1
No Members Online



Registered Members: 61


Newest Member: ~thales jose

Happy New Year!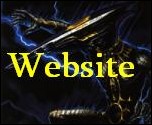 The year 2011 was great for all MDK fans. We've gained a new domain, then new header and logo by Nicodemus and Kyna. Thanks Beamdog that you bring MDK 2 on the Wii platform, and HD version on the PC. Many thanks for Trent Oster, Cameron Tofer and Phillip Daigle, for the fact that our fansite wasn't indifferent to them. Thanks again Beamdog! Also in 2011, Nick Bruty, creator of the first MDK, founded a new company called Rogue Rocket Games. We hope that Nick will create a lot of great games with an absurd sense of humor. Also thanks for Hectic Team, especially our second admin - Varrok.

Happy new year!
No Comments have been Posted.
Please Login to Post a Comment.

Login

Not a member yet?
Click here
to register.

Forgotten your password?
Request a new one
here
.

Member Poll
Copyright © 2009 - 2013 Hectic HQ (All rights reserved)
MDK & MDK 2 Copyright &copy Interplay

Header created by TheNikodemus

Logo created by Dragonwarrior-Kyna

Powered by PHP-Fusion v6.01.6 || EP IV by eXtreme Crew
Matrix Theme by probase @ AusiMods
95380 Unique Visits